ISO Management Systems Certification
Management Systems
As part of its ship classification surveys, ClassNK has been actively involved in the auditing of the quality control systems of shipyards and machinery manufacturers, etc. Based upon the extensive experience it has cultivated over many years, ClassNK has been engaged in the certification of quality, environmental, occupational health and safety, road traffic safety and energy management systems in accordance with the requirements of the respective standards, such as ISO 9001, ISO 14001, ISO 39001, ISO 45001 or ISO 50001. Organizations which have successfully passed certification audits are publicly registered by the Society as having management systems conforming to the requirements of the relevant standards. The organizations are issued certificates, and their names are then added to the Society's registry for the respective management system.
Brochure(ISO 9001, ISO 14001)
Brochure(ISO 45001)
Brochure (ISO 39001)
Regions where Certification is Available
The Society's certification services are available to both Japanese and non-Japanese organizations operating both within and outside of Japan. In certain cases, however, the Society may be unable to accept applications for certification for organizations located in certain countries due to legal or other reasons, so we advise that organizations located outside of Japan consult with us in advance prior to submitting a formal application.
JAB and RvA Accreditation
ClassNK is accredited by the Japan Accreditation Board (JAB) and by the Raad voor Accreditatie (RvA) of the Netherlands. Certificates issued by the Society will bear the symbol/mark of the respective accrediting authority and this symbol/mark may be used by the certified organization in advertising or promotional materials, etc.
The services for certification of occupational health and safety, road traffic safety, and energy management systems are offered under the internal quality control scheme equivalent to the one applied to the certification of quality and environmental management systems.
Scopes
Accreditation body
QMS
EMS
JAB*
RvA**
JAB*
4 Textiles and textile products
●
7 Pulp, paper and paper products
●
12 Chemicals, chemical products and fibers
●
●
●
14 Rubber and plastic products
●
●
16 Concrete, cement, lime, plaster, etc.
●
17 Basic metals and fabricated metal products
●
●
●
18 Machinery and equipment
●
●
●
19 Electrical and optical equipment
●
●
●
20 Shipbuilding
●
●
●
22 Other transport equipment
●
●
28 Construction
●
●
●
29 Wholesale and retail trade; repair of motor vehicles, motorcycles and personal and household goods
●
●
●
31 Transport, storage and communication
●
●
●
32 Financial intermediation; real estate; renting
●
●
34 Engineering and research ad development
●
●
●
35 Other services
●
●
●
37 Education
●
●
●
39 Other social and personal services
●
*:Japan Accreditation Board **:Raad voor Accreditatie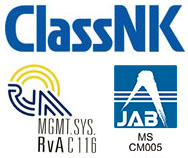 Audits by Experienced Auditors with Specialized Knowledge
All audits are carried out by highly trained, qualified auditors with extensive experience and specialized knowledge in shipbuilding, machinery and equipment, electrical systems, materials, ship management, etc. This specialized knowledge also serves as a major foundation for the professional service offered by the Society in all its activities.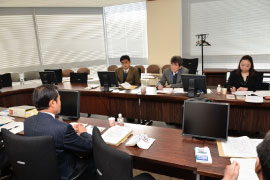 Impartiality and Openness in Certification Activities
The Impartiality Committee has been established to ensure the impartiality and objectivity of all certification related activities. The Impartiality Committee consists of representatives from interested parties such as the shipbuilding, machinery and equipment, transport industries, insurance, academic experts, and representatives from non-governmental organizations (NGO) and consumers. On matters affecting impartiality, such as openness and public perception, the Impartiality Committee advises to the Society to reflect and implement them in the provision of the certification services.
Certification Processes
With regard to audit processes, and the processes for granting, refusing, maintaining, renewing, suspending, restoring or withdrawing certification, and expanding or reducing the scope of certification, please refer to the following documents on this page.
Initial Audit Flow-chart
A flow-chart showing the initial audit processes.
Rules and Guidance for Certification of Management Systems
Contains details related to the processes and requirements required for certification. Refer to this document prior to submitting an application for certification to the Society.
Application for Certification
Applications for certification are to be submitted to the Society using the form on this page by email or post. Requests for estimates of the costs associated with certification may also be submitted to the Society using the form on this page when necessary.
Use of Certification Symbol/Mark
Certified organizations may use the Society's certification marks in their documents and communication media, etc. Certification marks, however, must be used in accordance with the Society's Rules and Criteria found on this page. Organizations wishing to use the accreditation symbols/marks of JAB and RvA may only use them in accordance with the criteria provided by the Society.
References to Certification Status
Certified organizations may make reference to its certification status in communication media such as the Internet, brochures or advertising as well as or other documents in accordance with the Society's Rules and Guidance on this page.
| | |
| --- | --- |
| Certification Activity | |
| Application form | |
| Quotation | |
Certification Status Information
The Society makes information such as the status of certification, the name of the certified organization, the scope of certification, the location of the certified organization, etc. available for public review by adding it to the Society's certification registry.
Processes for Handling Complaints and Appeals
The explanatory note on this page provides an outline for the appeals-handling and complaints-handling processes for management system certification services.
Requests for Information
Information related to the Society certification services is available upon request. All inquiries should be made to the Certification Department (QAD).
NIPPON KAIJI KYOKAI
Certification Department
4-7 Kioi-cho, Chiyoda-ku, Tokyo 102-8567, Japan
Tel : +81-3-5226-2178
Fax : +81-3-5226-2179  
Email : qad@classnk.or.jp
Related Pages