Cyber Security

ClassNK has compiled the "ClassNK Cyber Security Approach" as a basic way of thinking about onboard cyber security based on trends in international institutions and maritime bodies.
ClassNK Cyber Security Approach
Traditional marine systems primarily relied on physical connections and controls, without much consideration for threats such as unauthorized access or attacks from external sources.
However, with recent advancements in technology, marine systems have become digitally interconnected through computers and the Internet. As a result, marine systems are exposed to cyberspace, heightening the risk of cyber-attacks.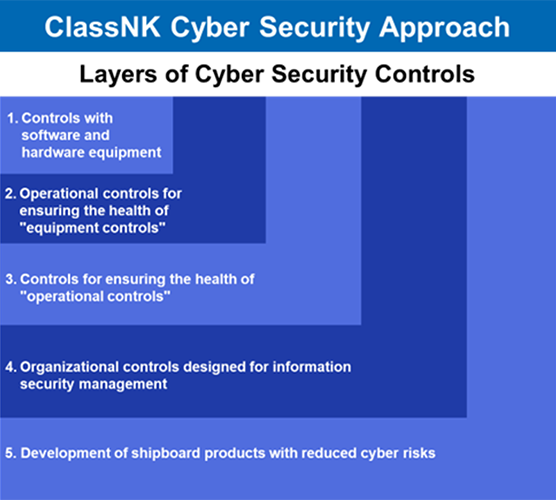 Cyber-attacks not only compromise the safety and reliability of marine systems but can also pose a threat to ensuring the safety of life and property at sea and protecting the marine environment, there has been a growing focus on cyber security in recent years.
ClassNK is actively disseminating information about ship cyber security, aiming to contribute to the advancement of cyber security controls internationally.
Address and Contact Details
NIPPON KAIJI KYOKAI
Maritime Education and Training Certification Department
Tel: +81-3-5226-2177 Fax: +81-3-5226-2013 E-Mail:
met@classnk.or.jp