ClassNK ZETA (Zero Emission Transition Accelerator)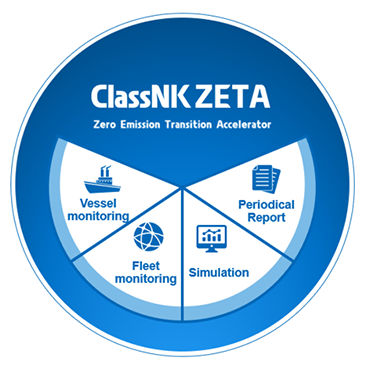 ClassNK ZETA (Zero Emission Transition Accelerator) was developed by ClassNK as a tool to enable various customers to efficiently manage GHG emissions from ships. ClassNK ZETA is a tool that links to the ClassNK MRV Portal, a system that stores data such as fuel consumption of ships. It is equipped with features for constantly monitoring CO2 emissions and CII ratings of individual ships and entire fleets, and for simulating how CO2 emissions and CII ratings would change if slow steaming, etc. was implemented.
It is also expected to be an integrated data management platform that can be used for reporting based on global frameworks such as the Poseidon Principles and the Sea Cargo Charter by a variety of customers, including shipowners, financial institutions, and cargo owners.
Overview of ClassNK ZETA
Basic Functions of ClassNK ZETA
ClassNK ZETA provides following 4 basic functions.
Vessel Monitoring:Displays CO2 emissions, CII rating, etc. of individual ships without delay. Users can also check the estimated annual CO2 emissions and CII ratings based on the current operation status at any time and consider any necessary measures.
Fleet Monitoring:Displays CO2 emissions and CII ratings of the entire fleet for each company or team in charge without delay. Makes it possible to check the CO2 emissions of the fleet and the progress of the company's overall CO2 reduction targets at any time.
Simulation:Simulates the changes in CO2 emissions and CII ratings for an individual ship or fleet that would be seen by slow steaming, installing energy-saving devices, or switching fuels. Various simulations enable users to consider measures for reducing CO2 emissions.
Periodical Report:Outputs CO2 emissions by ship, fleet, voyage, etc. In the future, it will also allow users to meet the reporting needs of various stakeholders, such as financial institutions, cargo owners, and insurance companies.
Advanced Functions of ClassNK ZETA
ClassNK ZETA also provides Advanced Functions which are available as a paid service.
You can apply for the functions after login to ClassNK ZETA.
Performance Table powered by NAPA:Provides up-to-date information on the vessel's current performance calculated by NAPA and shows the information of ship speed and fuel consumption for each engine output under different weather and sea conditions and loading conditions.Introduction of Performance Table powered by NAPA