Comprehensive Revision of Part C of the NK Rules
Like many other industries, the maritime industry currently finds itself facing not only the rapid evolution of digital technology but also the need for significant decarbonisation. In order to solve such complex challenges, more innovative concepts and technologies are expected to be implemented in shipbuilding design.
To meet these expectations, ClassNK recently carried out a comprehensive revision of Part C of its Rules and Guidance for the Survey and Construction of Steel Ships (hereinafter referred to as "Part C") so as to make possible safer and more rational hull structural designs and strength assessments. (*)
For more than 100 years, ClassNK has been constantly revising parts of its structural rules in order to respond to the emergence of new vessel types and various damage related problems. In order to evolve coherent, data-driven structural rules which align with the "Design by Analysis" principle and respond to the digitalisation revolution and the zero-emissions imperative, ClassNK has comprehensively revised its structural rules.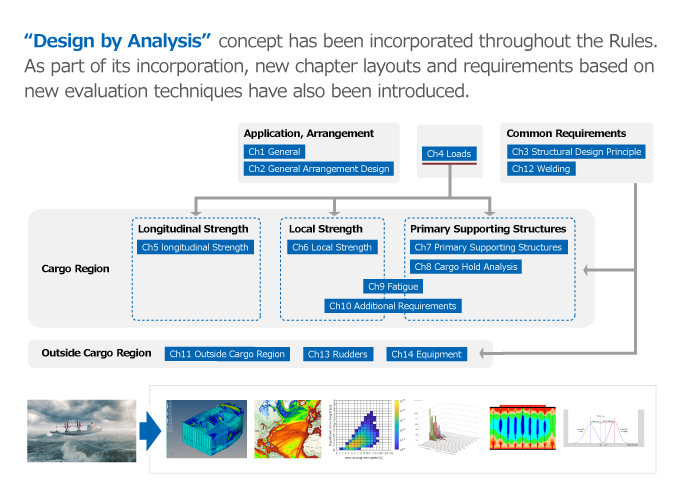 Easy to understand and clarifies the requirements applicable to each ship type
High transparency of the rules and clear technical background
High consistency between theoretical strength evaluation and actual scantlings, taking into account actual sea conditions
Good balance between safety and rationality with respect to required scantlings
Flexibility to adapt to new concepts in hull construction
High compatibility with structural digital twin technology
Special software "PrimeShip-HULL" is available

(∗) In principle, the new Part C will apply to ships for which the contract of construction is dated on or after 1 July 2023.
Benefits of New Structural Rules
The introduction of loads that actually occur on ships and strength criteria closely linked to damage as well as the provision of an appropriate safety factor to improve the accuracy of strength evaluations. This approach also means that excessive scantlings can be reduced, while scantlings of the members where more strength and a greater corrosion margin are needed can be increased. These steps will be reflected in lower construction costs, lower fuel consumption, less maintenance and fewer repairs.
The comprehensive revision unifies the concept of strength evaluation and—by doing so—clarifies the technical background of each strength requirement. This will enable highly accurate strength evaluations to be performed for novel structures such as hydrogen-fuelled and ammonia-fuelled vessels, and it will also enable safe and highly rational designs to be developed.
The key feature of the comprehensive revision is a data-driven rule development that utilises big data. Analysing AIS data or plate thickness measurement data, for example, represents a significant expansion in the knowledge base for rulemaking. With the introduction of digital twin technology, various facts about vessels during navigation will become clearer in the future, and dramatic progress in the development of new structural rules can be expected: the foundation for this has already been laid in ClassNK's new structural rules.
View/Download Rules
ClassNK MyPage account holders are able to view all the ClassNK Rules and Guidance for the Survey and Construction of Steel Ships, including Part C, free of charge. Part C can be downloaded directly from the following link.
Software
PrimeShip-HULL, a hull structure design support system, is available to customers who design ships that comply with Part C. For details, please refer to the PrimeShip-HULL page.
Contact Us
Email (inquiry desk): part_c_inquiry@classnk.or.jp
Phone:
Rules in general (Rule Development Department): +81-03-5226-2181
Approval of individual ships (Hull Department): +81-03-5226-2017, 2018