PrimeShip-PSC Intelligence
PrimeShip-PSC Intelligence is a free system for the owners and operators of NK-classed vessels or vessels whose ISM/ISPS/MLC are registered with NK (Hereinafter referred to "customers") in order to support improvement of PSC performance and ship management systems.
This system enables check analysis of trends on deficiencies recorded at each port or country, output of PSC checklists for each port or country based on the trends, and sorting of deficiencies recorded on managed ships in frequent order along with the ability to review them to improve ship management systems. This system also provides users with various functions to help improve fleet PSC performance and ship management systems.
For more details, please refer to the following "PrimeShip–PSC Intelligence Brochure".
PrimeShip-PSC Intelligence Brochure - English Edition (595kb)
Applications
For customers using our "NK-SHIPS" service, this system is available from the "PrimeShip–PSC Intelligence" link displayed after logging into "Web Service Portal" by using the USER ID and password of "NK-SHIPS". Registration of your fleet to the system is made simple by linking data from "NK SHIPS". Therefore, it is recommended to register for "NK-SHIPS".
An application for "NK-SHIPS" is available from the following site.
For customers not using "NK-SHIPS", please fill out the following application and send it to "psc-intelligence@classnk.or.jp"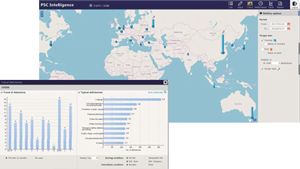 Frequently Asked Questions
Please check the following frequently asked questions.
Application and Inquiries about PrimeShip-PSC Intelligence
Ship Management Systems Department
NIPPON KAIJI KYOKAI
TEL: + (81)-3-5226-2173
FAX: + (81)-3-5226-2174
E-maill: psc-intelligence@classnk.or.jp
Related Sites