Joint R&D with Industries and Academic Partners
Established in 2009, ClassNK's Practical R&D Promotion Department was created with the goal of promoting new research strategies and broadening collaboration between different sectors of the maritime community, including private companies, research and educational institutions, and government agencies.
In order to achieve these goals, the Practical R&D Promotion Department actively seeks out collaborative research opportunities and openly accepts requests for research support. A new streamlined review process, ensures that projects can be selected and implemented as quickly and smoothly as possible.
In addition to these collaborative projects, the new Department is also tasked with promoting research that contributes to the greater good of the entire maritime community, including research related to greenhouse gas (GHG) emission reduction. In 2010, ClassNK joined a Japanese government backed initiative to reduce maritime GHG emissions, and the Society is currently supporting more than 20 different research projects being conducted as part of this program.
The Practical R&D Promotion Department is currently conducting more than 80 joint research projects based on requests from the maritime industry. A brief description of some of these projects is given below.
Completed
Research on the practical application of mixed air-water blasting technology for PSPC
In order to comply with the Performance Standard for Protective Coatings (PSPC), block surfaces must be finished using either dry or wet blasting systems. However, existing technologies have a number of drawbacks including expensive facilities, health hazards, and poor performance. The goal of this project is to develop methods for practically applying mixed-media blasting technology to minimize these drawbacks while maintaining high performance and productivity.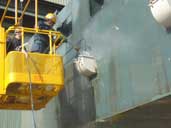 Research on energy saving measures for the shipbuilding industry
In response to growing demands to reduce GHG emissions from all industrial sectors, this project is aimed at developing methods for reducing the amount of energy used by welding and NC cutting equipment and reducing emissions from the shipbuilding process.
Development of software for preparing PSPC Coating Technical Files (CTF)
Under the Performance Standard for Protective Coatings (PSPC), it is mandatory for ships to maintain an enormous amount of data on their ballast tank coatings. The goal of this project has been to develop a software system to make the creation and maintenance of Coating Technical File (CTF) an easy process, and create a unified format for use throughout Asia.

Development of Applications based on NAPA System
The aim of this project is to develop software applications based on 3D models using specialized NAPA software systems for basic design and final calculations related to ship performance from a Japanese shipyard designer's point of view.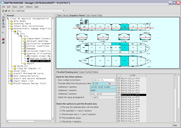 In progress theme
Research on loading conditions and resistance using computational fluid dynamics (CFD)
The aim of this research study is to develop methods for improving the accuracy of resistance estimates using Computational Fluid Dynamics (CFD) to obtain quantitative data on the relationship between loading conditions and resistance. More practical methods for calculating self-propulsion in the fully loaded condition and will be examine and confirmed via tank tests.
Wind Challenger (next-generation sailing ship) Project
The goal of this project is to reduce CO2 emissions from the shipping industry by developing a next generation commercial vessel that will use wind power as its main source of propulsion. The program aims to develop a commercially viable vessel design that will provide similar performance to existing ships while reducing overall fuel requirements by two-thirds, and to a develop a viable business model for the new vessel.